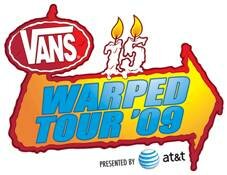 Punks and posers, get out your black hair dye and scuff up your sneakers, it's Warped Tour time, and we've got a hell of an update for ya.
This year's Minneapolis stop is August 2nd at Canterbury Park.
Last year was my fourth Warped Tour, and I have to say Canterbury Park was an excellent location — way WAAAAY better than the stifling Metrodome asphalt. 
Tons and tons of info and sponsorship news after the jump…

2009 Highlights from the Press Release: 
VANS WARPED TOUR® Presented by AT&T–the annual punk rock extravaganza that is North America's longest-running touring festival–celebrates its 15th anniversary this year, kicking off June 26 in Pomona, CA and wrapping August 23 in Carson, CA.  Below is a list of this year's new and returning attractions, activities and tour sponsors.  Please go to www.warpedtour.com for the full list of tour dates and bands performing in each city.
AT&T:  AT&T will deliver an arsenal of big Warped perks for VWT fans this summer, including:
§         Warped Tour Text Alerts: To keep up with all of the daily activities and performances at the Warped Tour, AT&T is offering customers the opportunity to opt-in to receive localized concert information, such as band line-ups, autograph session schedules and other exclusive offers via text messages. To opt-in, text 927733 (WARPED) to 826709(VANS09). 
§         Interactive Air Guitar: This is where technology, music and fun collide. AT&T's Interactive Air Guitar stage allows concert-goers to receive on-stage rock star attention to a viewing audience as they perform guitar solo to tracks from rock classics as well as new tune from AT&T Warped Tour Bands, such as The Devil Wears Prada, Less Than Jake, The Maine and 3oh!3.
§         Reverse Daycare Tent: The ultimate perk for parents, AT&T's Reverse Daycare Tent is an air-conditioned chill zone for parents who escort their teens to the concert but crave a break from the heat and the music. Here parents can relax, enjoy a cool beverage and interact with some of AT&T's family-friendly products and services.
§         AT&T Customer Perks: AT&T customers who are onsite at the Warped Tour, can text 946 (WIN) to 826709(VANS09) for a chance to win the backstage meet and greets with the AT&T Warped Tour Bands. Additionally, customers can get direct access to Warped Tour music content by texting 68742 (MUSIC) to 826709 (VANS09)
VANS "AMATEUR MINI-RAMP SKATE JAM":  For 14 years, Vans has brought great skating to the tour and once again this summer will stage the "Amateur Mini-Ramp Skate Jam," presented by Vans.  This contest will be featured at each stop on the Vans Warped Tour and awards cash prizes daily as 20 to 25 local "hot" pre-qualified skaters shred the mini-ramp for fun and money. Skaters, don't be left out!  To find your area's qualifying prelim, go to www.caslusf.com or call (909) 883-6176. The schedule of prelim contests will be updated weekly.  
KIA:  For the second consecutive year, Kia Motors America, Inc. is going "on tour" as the Official Vehicle of the 2009 Vans Warped Tour®.  Throughout the entire tour fans can stop by the Kia tent to check out and obtain information on the all-new Kia vehicles on display, including the 2010 Kia Soul, 2010 Kia Forte sedan and the 2010 Kia Forte Koup.  This interactive tent features a live MC, airbrush tattoo artists, a "Bare Your Soul" video confessional and other activities where fans can win cool Kia merchandise and giveaways, such as wristbands to access a covered VIP riser located in front of the main stage.  Warped Tour bands "White Tie Affair" and "Scary Kids Scaring Kids" will stop by to sign autographs and meet and greet with concertgoers.  Kia is offering fans the opportunity to enter "A New Way to Roll" Sweepstakes for the chance to win an all-new 2010 Kia Soul (fuse.tv/kia-soul) and the "Warped 15" Sweepstakes (fuse.tv/kia-warped15) for the chance to win an all-expenses paid trip to a special blow-out concert event in Los Angeles, CA.  Fans can enter to win online or by visiting the Kia tent at U.S. tour stops.
Kia is proud to once again be the presenting sponsor of the solar-powered Kia Kevin Says Stage, where up-and-coming, local and unsigned artists have the opportunity to perform on the only touring solar-powered stage in the country–providing all the rock without the environmental impact.  Last year the use of solar power resulted in a CO2 emission reduction of 8,360 pounds!  Kia also is teaming up with Warped Eco Initiative, to remind fans that "everything you do makes a difference."  As it does for the Vans Warped Tour®, 2009 marks Kia Motors America's 15th Anniversary, and they cannot wait to celebrate with the fans all summer long.  Check out tour photos and read up on the latest Warped Tour news at www.fuse.tv/wordofsteve.
TROJAN:  The makers of Trojan® Condoms is hitting the road this summer with the Vans Warped Tour raising sexual health awareness and helping to bring pleasure to the bedroom.  Stop by the Trojan® Condoms area between bands and ride the virtual reality roller coaster, test your trivia knowledge, win prizes and receive a free sample of a revolutionary new condom, Trojan® EcstasyTM.
XBOX AND ROCK BAND: This summer, Rock Band and Xbox 360 will be teaming up to bring you one step closer to becoming a rock star! Challenge your favorite Vans Warped Tour bands and compete to win Xbox Points cards redeemable for Rock Band download tracks, including new songs from Warped Tour artists . http://www.xbox.comhttp://www.rockband.com/
truth®: truth® once again hits the road this summer to reach out to thousands of teens with life-saving messages about tobacco use. The truth® youth smoking prevention campaign travels with iconic orange truth® "trucks" rigged with DJ decks and video monitors. In the truth® "zone" at each tour stop, truth® crew members engage with teens and educate them about tobacco use, hand out truth® gear, and use music, games and interactive activities to spread the truth® message in a subtle and fun way. Each stop features impromptu rap sessions, join-in free-style demos and giveaways of popular truth® gear such as t-shirts and bags. Scratch lessons will be available through the "Scratch DJ Academy," a group of DJs who show newcomers the fundamentals of DJing, scratching and mixing music. Visit www.thetruth.com<http://www.thetruth.com/, or look for truth® on popular social networking sites like Facebook and MySpace.
HURLEY:  Hurley's turning up the amp for the Vans Warped Tour 2009. The Hurley Stage and Hurley.com stage will feature a growing list of headliners including Saosin, The Maine, Bayside, Meg & Dia and Lights with performances available via live feed on hurley.com on selected dates. Stay in tune with regular behind-the-scenes updates onhurley.com, including live interviews, band-on-band interviews and photo galleries. Onsite in the Hurley Zone, there will be a swarm of activity, including band signings, free download cards, surprise acoustic performances and live paintings by artist Logan Hicks on select dates. Some of Hurley's featured bands will have collaboration tees available at their merch booths, and you can also design your own Hurley tee at the Girlz Garage. Under the banner of our ongoing Microphone For Youth contest (www.hurley.com/mfy), the tee with the most votes gets $1000 and heaps of street cred. It's all happening with Hurley at this year's Vans Warped Tour. Stop by the Hurley Zone or stay connected onwww.hurley.com/warpedtour. For up-to-the-minute updates, find us on Facebook or twitter.
SKULLCANDY:  Skullcandy, masters of stylish headphones and innovators of audio-enabled lifestyle products, is joining this year's Vans Warped Tour with the Skullcandy Stage and Mix Tent.  This summer, you will see Innerpartysystem, Dirty Heads, Ivy League, The A.K.A.s, Brokencyde, Shooter Jennings, TV/TV, The Architects and many others performing on the Skullcandy Stage.  Skullcandy is producing limited custom headphones for Warped Tour artists 3OH!3, Thrice, Forever the Sickest Kids and Dirty Heads.  Concert-goers will also be able to sample the sweet sounds of several models of Skullcandy headphones (including samples from the all new limited distribution dB collection) to get a taste of the latest in Skullcandy steeze.  http://www.skullcandy.com/warped-tour.html.
MONSTER ENERGY VIP AREA:  The Monster Energy VIP area is back with plenty of cold Monster Energy and the new Hitman Energy Shooters. Bands are always stopping by, so you never know who you'll run into. Monster Energy supports the music industry. Seems bands are rockin' Monster Energy more than anything these days. Check out the types–Original Monster Energy, Monster Lo-Carb, Monster Assault, Monster's fruit juice hybrids dubbed Monster Khaos, Monster M-80 and Monster MIXXD, the ground-breaking Java Monster premium coffee & cream drink line supercharged with Monster Energy's blend, and the brand new 3 oz. Monster Hitman Energy Shooters. For more information log on to:http://www.monsterenergy.com/.
FUSE

:
Fuse Warped Wednesday
Wednesdays from 11am to 4pm – July 1st through August 19th 
This summer on Fuse, Wednesday is Warped-day with a weekly dose of all the latest music and news from the 2009 Vans Warped Tour.  Tune in for an all-access pass to exclusive interviews and the very best in music from the Vans Warped Tour bands. Kick off Wednesdays with special editions of "Video Yearbook" and viewer's choice "No. 1 Countdown" featuring Warped artists.   And don't miss on-the-ground reports from the tour on "Steven's Untitled Warped Show." For full Warped coverage and info, visit www.fuse.tv/tours/warped.
ALTERNATIVE PRESS: For the past 11 years, Alternative Press magazine has created the official Vans Warped Tour program guide. Stop by the AP booth to pick up your free collectable tour guide, enter daily contests, subscribe to the magazine through exclusive VWT-only offers and meet your favorite Warped Tour bands. www.altpress.com
DENNY'S:  Denny's will be hosting after parties with bands at 23 select stops along the Warped Tour. All fans are invited come hang out and end the night right with their favorite bands up close. Check out www.DennysAllnighter.com for all the details
DICKIES:  Dickies is bringing its no-nonsense attitude and authenticity to the Vans Warped Tour through its newly unveiled mobile interactive unit. Unleash the real you and stop by Dickies airbrush tattoo parlor to add to your body art collection, pose in front of the green screen as a crowd-surfing superstar or try your hand at the gaming stations. Before you duck out, visit Dickies Hall of Fame which includes gear signed by artists who have played stages all over the world and rocked out with the best of them. For more information. Visit www.Dickies.com The interactive unit will be onsite in Dallas, Houston and New Jersey.
BABYCAKES:  Babycakes has become its own kingdom, a land where popsicles fall from rainbows and people dance in submarines that float in outer space. What began as Paul's bedroom project, his own personal escape from the mundane has now become a place for kids world wide to sparkle through clothing, music, parties and general excitement.  Enter the Babycakes kingdom at Warped Tour 2009.  Babycakes debut at Warped Tour is marked with a limited official Babycakes/Warped collaboration t-shirt goes on sale at 2pm in the Babycakes 20′x20′ foot tent, with the companies 21-year-old "t-shirt rockstar" CEO Paul Griffiths present and partying at each date!
www.bbycks.com
NARAS:  The Recording Academy is happy to partner with the Warped Tour on their 15th anniversary tour. Established in 1957, the National Academy of Recording Arts & Sciences, Inc., also known as The Recording Academy®, is an organization of musicians, producers, engineers and recording professionals that is dedicated to improving the cultural condition and quality of life for music and its makers. Internationally known for the GRAMMY® Awards, The Recording Academy is responsible for groundbreaking professional development, cultural enrichment, advocacy, education and human services programs.  This year, Academy representatives from various markets will be joining the tour throughout the course of the summer to bring artists, bands and industry professionals up to speed on the various activities and opportunities provided by the Academy.  For more information about The Academy, please visit www.grammy.com.
MUSIC CARES:  MusiCares® has helped thousands of musicians and music people through some of life's most troubling challenges by providing a safety net of services and resources that cover a wide range of financial, medical and personal emergencies. During the Vans Warped Tour '09, MusiCares Safe Harbor Rooms will offer artists, managers, production crew and all those associated with the tour a sober support network. Twelve step meetings will be hosted by MusiCares twice daily (3 p.m. and 9:30 p.m.) and are open to anyone involved in a twelve step program or interested in twelve step recovery. MusiCares representatives will also be available all day to answer questions about MusiCares' programs and services. Signs will be posted to direct you to the MusiCares location backstage.
MusiCares is also asking participating artists and bands to make a text-to-pledge appeal during their set. Whether it's addiction, financial or medical crises or natural disasters, MusiCares is there with caring, confidential support. Now music fans by the thousands can get out their phones or hand held devices and make a $5 contribution to MusiCares by texting the keyword WARPED to 20222. This summer, it's about using the power of music to help MusiCares help others.  A one-time donation of $5 will be added to your mobile phone bill or deducted from your prepaid balance. Standard messaging rates and additional fees may apply. All charges are billed by and payable to your mobile service provider. Service is available on most carriers.  Donations are collected for the benefit of the Plan it Now, Inc by the Mobile Giving Foundation and subject to the terms found at www.hmgf.org/t. You can unsubscribe at any time by texting STOP to short code 20222; HELP to 20222 for help.
ERNIE BALL BATTLE OF THE BANDS STAGE: In its 13th year, The Ernie Ball Battle of the Bands is the world's largest unsigned band competition. Featuring over 15,000 bands, the Ernie Ball stage offers bands from across the country an opportunity to compete for various prizes such as, performance spots on the Ernie Ball stage, gear and instruments as well as potential recording contracts. This summer fans can expect to see  Madina Lake, Aiden, In This Moment, VersaEmerge and more. Please visit  www.battleofthebands.com.
SMARTPUNK:  Smartpunk.com, the online music store that brings you the very best and brightest bands in punk, emo, hardcore, metal and alternative, has launched a brand new, interactive website just in time to help with all of your summertime music needs. The Smartpunk.com stage is back for the sixth consecutive year on the Vans Warped Tour with an amazing lineup of epic and buzz-worthy headliners: Senses Fail, There For Tomorrow, Hit The Lights, A Skylit Drive, Breathe Carolina and The White Tie Affair.  Smartpunk.com prides itself on discovering new talent and bringing it directly to the fans. We offer a multitude of products ranging from t-shirts to CDs to accessories, focusing on exclusive merchandise and limited edition pre-orders. Come check out amazing up and coming bands, along with some of your current favorites, live on the Smartpunk.com stage all summer long, at the Vans Warped Tour 2009.
KIA KEVIN SAYS STAGE POWERED BY SONICBIDS:  This stage features a wide variety of undiscovered, up-and-coming and prominent bands from underground and independent music scenes around the world. The Warped Tour selected bands for the stage after evaluating their work ethic, talent and uniqueness. In keeping with the independent theme of the stage, one Sonicbids artist will be performing at every tour stop. Sonicbids is the place for bands to get gigs, and for promoters to book the right bands. Last year, the Warped Tour booked 46 independent bands in 46 cities across the country using Sonicbids. Ranging from punk to ska, from hip hop to hardcore, the Kia Kevin Says Stage has become a hot spot for discovering new music on the tour. This is the first year Kia Motors and Sonicbids have teamed up to support the stage, creating a new and exciting twist.
http://www.kiakevinsaysstage.com http://www.sonicbids.com
WEI:  "The Warped Tour Guide to Not Being a Complete Environmental Disaster"–a full color mini magazine–will be available all summer long featuring original artwork by Matthew Gray Gubler as well as contributions from tour creator Kevin Lyman, Matt Watcher, Phillipe Cousteau, Robert Kennedy Jr.'s Waterkeeper Alliance, David Pirano, Alex Hallatt and Joshua Katcher aka "The Discerning Brute." It's packed full of tips on green living and includes anecdotes on touring (and living green) from Warped Tour bands, past and present.
The eco lounge will showcase innovative eco-friendly products, documentary films and an information library as well as eight solar powered misting fans!
Fans that participate in on-site recycling challenges will gain access to intimate "solar powered" performances and a chance to meet their favorite bands for autographs and pictures.  Through our partnership with Earth Echo International, bands will compete to be the most environmentally friendly and win various prizes including Baylis Eco Media Players and a expedition to St. Croix with Phillipe Cousteau, founder of Earth Echo International, Chief Ocean Correspondent for Animal Planet and host of several Discovery Channel specials.
This year, the tour is expected to recycle over 40,000 lbs. of recyclable materials.
MYSPACE MUSIC:  MySpace Music will develop online video diaries all summer long exclusive to MySpace.com, Powered by Flip Video.  The videos will feature cameos from up-and-coming and established Warped Tour artists, and will include antics from the road, shows and after-parties.  Each week a new video will be featured in various locations throughout MySpace.
THE VANS WARPED TOUR NONPROFIT AREA:  The Vans Warped Tour has once again committed to creating space at each show for local, regional and national nonprofit organizations to educate and motivate concertgoers to become involved in their local and national communities. The 2009 Nonprofit Area will be bigger than ever, averaging 20+ organizations per date. This year we welcome Greenpeace and their "Rolling Sunlight" bio-diesel vehicle, a mobile, eco-power station that will be used to power the entire Nonprofit Area completely by solar and wind. Other highlights include:  "Warped Photo Booth", where fans can get a free, downloadable photo taken of themselves with their favorite Warped Tour bands, Weekly online auctions featuring rare, autographed Warped Tour memorabilia, plus new ways to get involved from local charities to national efforts.  We invite you to help us make a difference.  So come join the outspoken bands, petitioners, and fellow activists in registering new voters, getting a skin-cancer screening, joining our recycling team, contributing to a book drive or signing up to help feed the homeless.  Please support the nonprofit organizations that will be joining the 2009 Vans Warped Tour: Unite the United, Warped Eco Initiative, Greenpeace, Peta2, Music Saves Lives, Boarding For Breast Cancer, Keep A Breast, Invisible Children, Amnesty International, Music For Relief, Sex Communication, To Write Love On Her Arms, Rock For Health, Habitat for Humanity plus the many local organizations joining the tour daily. 
Visit www.unitetheunited.org, and the Vans Warped Tour website for more info on how you can get involved.  
FANSCAPE: Fanscape returns for the 8th consecutive year as the official Marketing Agency-of-Record for the tour. Fanscape will continue to run several innovative and effective marketing tactics, including database growth and management, email marketing, content syndication, fan outreach, promotions and sweepstakes, and several sponsorship activations, engaging hundreds of thousands of young adults across the country to participate in Vans Warped Tour online activities.  For more information on Fanscape, visit http://www.fanscape.com/.